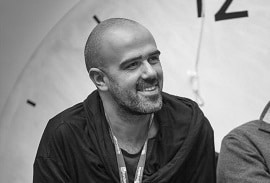 Francesco Cingolani
Architecte, Enseignant et Co-fondateur du master Design by Data / Ecole des Ponts ParisTech et de Fab City Grand Paris / Architect co-founder Fab City Grand Paris, Design by Data / Ecole des Ponts ParisTech
Résumé/Resume
Francesco Cingolani et co-fondateur et directeur du Mastère Spécialisé Design by Data (Conception Paramétrique et Fabrication Numérique) à l'Ecole des Ponts ParisTech. Il a co-fondé en 2016 l'association Fab City Grand Paris et dans ce cadre il est organisateur du Fab City Summit qui aura lieu en juillet 2018 à Paris. Architecte et ingénieur de formation, il est également enseignant à l'École nationale d'architecture de Lille en atelier de projet « Villes Productives ». Après avoir créé la société de coworking Volumes en 2014, il travaille comme consultant en stratégie et innovation pour la société ECHOES.PARIS spécialisée en conception d'architectures à géométrie complexe.
Francesco Cingolani is cofounder and director of the Advanced Master Design by Data in Computational Design, Digital Manufacturing and Building Technologies at Ecole des Ponts ParisTech.  He co-founded in 2016 the NGO Fab City Grand Paris and he is one of the organisers of the Fab City Summit take will take place in Paris, July 2018. Architect and Engineer, Francesco also teaches at École nationale d'architecture de Lille in productive cities studios.
After having founded Volumes, a coworking and makerspace lab in Paris, he works as a strategic consultant at ECHOES.PARIS, a young company of design engineering specialised in complex geometry and digital fabrication for architecture and construction.
Le Mastère Spécialisé® DESIGN by DATA de l'Ecole des Ponts ParisTech en conception et fabrication numérique dans le domaine du bâtiment est conçu pour des professionnels et des étudiants avec un diplôme en architecture, ingénierie, art et design. La formation vise à acquérir une culture transdisciplinaire et complète de la conception paramétrique et une connaissance approfondie des technologies de pointe dans les champs de l'architecture paramétrique, de la robotique, de la fabrication numérique et de l'impression 3D, appliquées aux domaines de la construction et du bâtiment. Elle  est certifiée par la Conférence des Grands Écoles et dirigée par l'École des Ponts ParisTech – une des Grandes Écoles les plus prestigieuses en France et dans le Monde – en collaboration avec des écoles d'architecture et d'art, des fablabs et avec le soutien de différents bureaux d'architecture, d'entreprises et de startups. Design by Data est une formation à temps partiel sur douze mois (à raison d'une semaine par mois), dispensée entièrement en anglais, avec un accès  aux fablabs et aux espaces de coworking partenaires, ainsi qu'aux outils de fabrication et prototypage numérique (robots, imprimantes 3D, machines CNC, découpeuse laser..).
The Design by Data Mastère Spécialisé® – Advanced Master provides attendees with a cross-disciplinary culture of computational design and a comprehensive knowledge of cutting-edge technologies in the fields of parametric architecture, robotics, digital manufacturing and 3D printing for the construction industry. The program is designed for a selected group of architects, engineers, designers and digital artists and offers a variety of courses, fabrication and prototyping workshops, conferences, digital talks and networking events.
The course is coordinated by the prestigious École des Ponts Paris Tech and takes place in a number of locations in Paris including innovation hubs, coworking spaces, art galleries and fablabs.