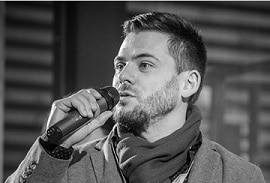 Nicolas RABUEL
Chef de projet structuration de la filière construction paille chez ODEYS / Project manager for the development of the straw bale construction sector at ODEYS
Résumé/Resume
« Concrétiser sur le terrain, la théorie et la pratique acquise. Découvrir des activités innovantes et pertinentes relevant des énergies et de la construction. Par la compréhension de la réalité et des enjeux de celles-ci. »
Nicolas RABUEL voit la vie comme un processus éducatif à part entière. De cette façon, il se forme dans une spécialité, puis, maximise cette qualification en travaillant dans divers contextes culturels pendant quelques années.
Aujourd'hui, soutenir des projets orientés vers le futur et l'efficacité énergétique est sa priorité. Il adore relever le défi de diriger une équipe culturellement et/ou professionnellement diversifiée pour développer la volonté et la motivation vers un objectif commun.
« Put theory and practice into action in the field. Discover innovative and relevant activities in the field of energy and construction. By understanding the reality and the stakes involved. »
Nicolas RABUEL sees life as an educational process in its own right. In this way, he trains in a specialty, then maximizes this qualification by working in various cultural contexts for a few years.
Today, supporting future-oriented projects and energy efficiency is its priority. He loves the challenge of leading a culturally and/or professionally diverse team to develop will and motivation towards a common goal.
Interventions/All sessions